For special guests, we will provide the best service
---
We offer interpreting service at international events or foreign guest hospitality in Kumamoto. We also support your plan in welcoming your guests and arranging their lodging with our quality interpreting service.
Interpreting service examples and history
---
Introducing service examples and history by Kumamoto Interpreting Service Company ART-I.
400 anniversary of Kumamoto Castle construction
"Silk Road Ensemble" concert at Honmaru-goten
Interpreting service: Japanese ⇔ English
Content: Interpreting service for performing artists
Requesting Client: Kumamoto City / Artplex
World Men's Handball Championship
The 15th World Handball Championship held in Kumamoto City
Interpreting service: Japanese ⇔ English
Content: Interpreting service for Norwegian team
Requesting Client: Kumamoto Prefecture / Kumamoto City
Kumamoto University and International Students Job Seminar
Training seminar for international students at Kumamoto University
Interpreting service: Japanese ⇔ English
Content: Interpreting service at seminar
Requesting client: Kumamoto University
Philippines Palo City Mayor visiting Kumamoto
Interpreting service for overseas workers coming to Kumamoto
Interpreting service: Japanese ⇔ English
Content: interpreting service for Philippines Palo City Mayor, reception at Airport
Requesting client: Light of Spirit Festival Committee, Kumamoto
Sojo University Media Art Exhibition
Art Department Design Section, Mie Seminar Sponsoring "Looking for New Earth"
Interpreting service: Japanese ⇔ English
Content: Event interpreting, interpreting service for international visiting artists (transfer, rehearsal, meals, etc.)
Requesting client: EU-Kumamoto Art Drive
Intercultural Orange Club
Intercultural exchange program with the State of Oregon, U.S.A.
Interpreting Service: Japanese ⇔ English
Content: Starting and assisting in all phases of the homestay program, interpreting service at all locations.
Requesting client: Oregon Intercultural Association
Staff and interpreters
---
We assign International airlines cabin attendants as well as staff well-trained in hospitality service.
Process required for sending our interpreter
---
To those considering to use our interpreting service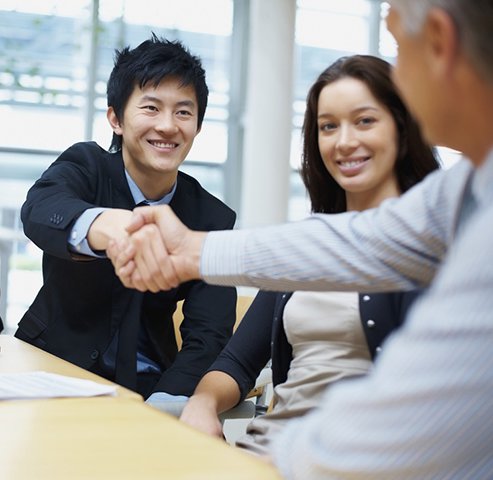 Inquiry and request for cost estimate

Please use our >>inquiry form or Contact us by telephone.
TEL: 096-324-1261 (Call time: Monday to Saturday 10:00 – 18:00)

Sending estimate and finalized working plan

Based on the contents you request, we will create and send you a finalized working plan with estimate.

Contract

After confirming a finalized plan and cost with your approval, we proceed with a formal contract.

Negotiation and decision on attending interpreter

After receiving necessary information from you, we may make some adjustment or rehearse if necessary before proceeding with our interpreting service work.
Comments from our clients
---
We share comments of our previous clients who employed our interpreting service.
News & Topics
---
Latest news and interpreting services
For important guests from abroad who visit Kyushu and Kumamoto,
We Art-I staff are dedicated to offer our best service.
---
Art-I Pesident Yukari Yamamoto
Contacts
---
INQUIRY AND REQUEST FOR COST ESTIMATE
Since 2006, Art-I has been operating a career design school offering lectures and classes to prepare people to successfully enter domestic and international airlines companies and other industry. To date, Art-I has enabled many individuals to find employment in domestic and international airlines as flight attendants and ground hospitality staff and hotels. Art-I, in addition to international exchange voluntary activities, is also offering classes on interpersonal communication skills and hospitality manner to colleges and universities in Kumamoto Prefecture, health care groups, governmental groups, and other business groups.
Art-I Limited Co.
2-5-19 M Building #802, Shimotori, Chuo-Ku, Kumamoto City, Kumamoto 860-0807
096-324-1261
096-324-1262
attend@art-i.jp
http://attend.art-i.jp